When we first started installing solar panels a few years back, Virginia was a pretty quiet state for solar power.
Back then, solar panels were more expensive, and most of the people who were interested in solar had homes with special needs for remote power. Or they had very high electric bills. Or, they cared about the environment and were willing to make an investment to be leaders in going green.
Today, things are very different in the Old Dominion.
Now, 29,423 homeowners have gone solar in Virginia. Maybe you or your neighbors are among them?
Or maybe you're still looking for the best way to go solar. If so, then read on.
Since the cost of installing solar on average has dropped 70% since 2010 nationwide, getting solar at home has now become possible for many more homeowners in Virginia.
We're still working with homeowners who want solar for their vacation home out in a rural area. But now we're also helping people who want to put solar panels on their primary residence in and around Roanoke, Lynchburg, Blacksburg, Lexington and other cities.
Demand for solar in Virginia has really grown and that has attracted many new solar installers. Today, there are more than 100 installers serving the state, and many of those are either newly formed companies or existing installers from outside the state, especially North Carolina, whose solar market is now getting saturated.
More choice is good for homeowners who want to go solar. But it can also create confusion. People we talk to usually have several big questions about solar:
Will my house qualify for solar panels?
How much money can I save with solar?
How long does it take to pay back my investment?
How can I choose the best solar installer?
How many bids should I get on my project?
Should I go with the lowest bid, to save money? Or the highest bid, to get better quality?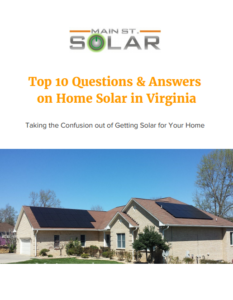 Homeowners have other questions too, about how photovoltaic technology works, the kinds of solar panels available, how big their system should be, and so on.
Unless you work in the solar industry, it can be hard to come up with good answers to all these questions.
However, the average Virginia homeowner doesn't need to know everything about solar technology and the solar business.
You just need to know enough to find a solar installer you can trust, to ask them the right questions and then to understand the answers.
To help you become enough of a solar expert to make an informed decision about going solar at home, last year we released our free guide to going solar at home in Virginia, The Top 10 Questions & Answers on Home Solar in Virginia. It's been so popular that I wanted to let our new visitors know about it now.
If you're thinking of going solar at home in Virginia in 2018, then get our guide before you contact a solar installer. You'll be empowered to make the best decisions about solar for your particular situation.
Download your free copy of our guide to home solar in Virginia today.
— Andrew Brenner, Main Street Solar