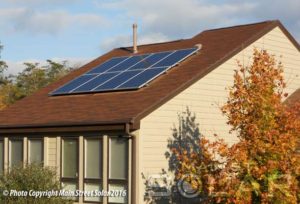 A solar energy system provides a range of long-term benefits to you, your home and your energy costs! There are many good reasons to invest now and begin reaping the benefits. You will be able to generate your own electricity and become energy independent. Invest in a Main Street Solar quality solar electric system and generate your own electricity from sunlight — a clean, silent, renewable energy source with no emissions.
Enjoy long-term solar life expectancy, with our solar PV panels' 25-year product warranty and an estimated lifespan of 30+ years. Main Street Solar system will shelter you from rising electric rates for many years to come. Create an income stream by selling your solar-generated SRECs (Solar Renewable Energy Certificates). Tax credits for installing solar systems have never been more advantageous. The federal tax credit is 30% of the cost of the system, solar will also increase the re-sale value of your home and not increase your property taxes.
FREE energy for the rest of your life in less than ten years while increasing your home resale value tax free! That's what Main Street Solar Energy can do for you.
Main Street Solar has completed many PV interconnections systems in Virginia. We know what each utility requires, and we will take care of the interconnection procedure for you.
We also keep you up-to-date on the current state and federal incentive programs available, walking you through the process to ensure that you get the best deal on your PV system. Request a free quote today!