Empower Yourself to Make the Best Decision on Solar for Your Home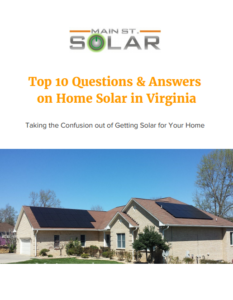 Confused about solar in Virginia?
Virginia is a good state to get solar from your home, with a payback in 8-10 years, if you do it right.
But with all the options out there for different kinds of solar panels, different places to put the panels and even different ways to finance your solar system, it can be hard to figure out what's best for your situation.
Our free guide covers everything you need to make yourself smarter about home solar in Virginia. It covers the top questions that we've gotten from our customers over the years, including:
How solar power works
The best reasons to go solar today
What solar costs and what incentives are available in Virginia (hint: they're different than in other states)
Should you go off-grid? And do you need batteries?
How to choose a solar installer that will provide a high quality installation
The 29-page guide is packed with beautiful photos of different types of solar installations and equipment to help you see what each one would look like up close. We've also included some shots of some of our customers, so you can see the kind of people who've gotten solar so far in Virginia.
Claim your free guide now by filling out the form and get started educating yourself on all the ways that homes can go solar in Virginia!