A simple, but important first step towards big energy savings.
Did you know your home's largest energy hog is the electric water heater especially if you don't have air conditioning or a swimming pool? For families of four or more, installing a solar water heater can save you up to $600 on your electric bill per year. That's enough to buy 200 pairs of slippers!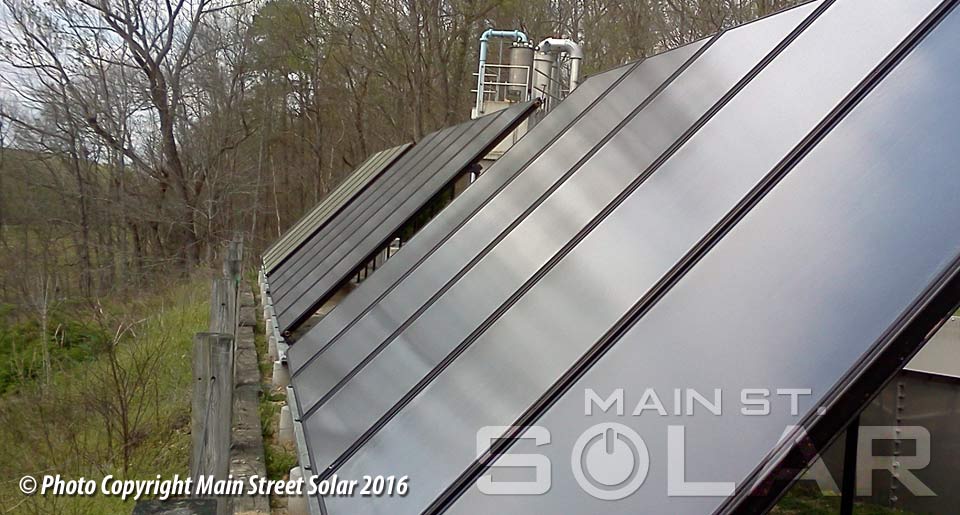 Are You Ready For Solar Water Heating?
A solar water heating system harnesses the sun's energy to heat water, so your water heater uses less electricity to do the same work.
With the continually rising costs of energy and the possibility of ongoing shortages in the future, there is no better time to think about converting your home to solar energy as a power source than now.  One of the best ways to produce hot water is by using a solar hot water heater that Main Street Solar currently offers their customers and installs for them.  Most importantly, you'll be "going green" and doing your part to protect the environment.
Advantages and benefits of using a solar hot water heater
Harnessing the sun's power as a renewable source of energy is gaining in popularity globally.  In the US alone, there are currently over 300,000 solar hot water heaters in operation and that number is growing all the time.  Here are the primary reasons behind their ever-growing popularity:
Adds value to your home
Environmentally-friendly (make a difference by helping to reduce greenhouse gas emissions and your dependency on your electric or gas water heater)
Extends the expected life of your residential hot water tank by dramatically reducing scaling
Qualifies for the 30% Federal tax credit
Solar energy is cost-effective and enables you to reduce your energy bills (using a solar hot water heater saves the homeowner up to 70% in hot water heating costs)
Solar hot water heaters can be used in any climate
The sun is an available and renewable energy source
One of the most overlooked advantages and benefits of using solar power is the positive impact this has on our environment.  The solar hot water heaters that Main Street Solar installs will help to reduce your usage of non-renewable energy sources such as coal, gas, nuclear power, or oil.
Solar hot water heaters are efficient, reliable, and safe.  Most importantly, they do not pollute the environment.  Other key considerations include having direct control over the system.  Additionally, and unlike conventional hot water heaters, you will always have hot water even when there is a power outage.