Benefits of Solar Energy
Why go solar? Paying the electric company is not a pleasant experience when the cost only grows over time. Don't waste your hard earned money on electricity when you can cut that expense now and generate your own clean free energy! Most utilities force heavy electricity consumers to pay at a higher rate than "baseline" consumers. Home solar arrays are typically sized to offset higher usage so that the remaining electricity you're buying is at the lower baseline rate. A typical array will produce enough to cover 50 to 100 percent of your electricity consumption.
How to Know if Solar is Right for Your Home
Air conditioning serves as a pretty handy litmus test. If you run it, chances are very good that you'll save money from day one by going solar. Other candidates for immediate solar savings are large homes, older homes, homes with electric water heaters, households that do a lot of laundry and homes with swimming pools, space heaters or grow lights. But even if you're a fogged-in energy miser and your electric bill is minuscule, you're still going to save money with solar. Folks with high bills start saving right away but virtually everyone will save over the long run. For people who fall somewhere in the middle, you'll probably break even in the short run and save over the long term. Contrary to popular belief, you can still have solar power on a cloudy day. The sun's radiation penetrates through clouds, so your solar panels can still absorb energy from the sun. In fact, some studies have shown that solar panels perform better when the sun is not scorchingly hot. An overcast day provides a cool environment for your panels while still allowing them to absorb solar energy.
Solar power is more affordable than ever
The option to go solar is now available to everyone. Many financing options are available, whether you choose to purchase, finance or lease your solar panels, and various tax incentives and grants can help cut the cost as well.
Solar panels have long life
All solar panels Main Street Solar installs have a 25 year power warranty. The tier one panels have a life span of up to 50+ years,  while the tier two panels have a life span of up to 30+ years.
Solar panels come in many different options
Main Street Solar will design a system that best suits your needs. We pay special attention to your budget, property requirements, and any other concerns that you may have.
Your home solar system can earn money
Saving money is great, but earning it is even better. Depending on current rules and regulations in your area, you may be able to sell excess energy produced by your solar power system back to the utility company.
Solar power is environmentally clean energy
We all know that coal and petroleum products produce pollution. Solar power is clean and very environmentally friendly.
Going solar is simple
At Main Street Solar, we handle all of the large and small details for you. Our goal is to make the transition to solar power as easy as possible. We are always willing to answer your questions and make solar an easy and pleasant experience for you.
The initial solar analysis is free!
Our no-obligation solar energy analysis is completely FREE of charge.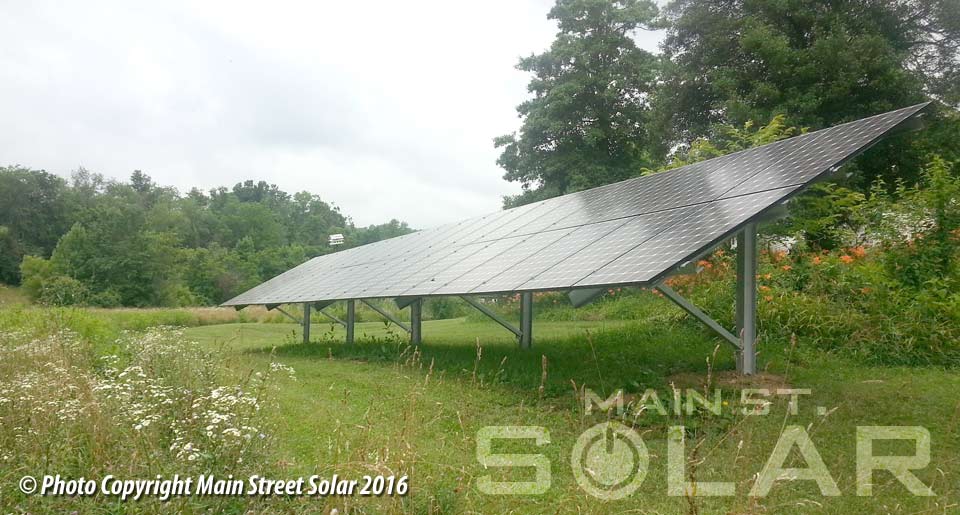 TAKE ADVANTAGE!
A solar energy system provides a range of long-term benefits to you, your business or home — and your energy costs! There are many good reasons to invest now and begin reaping the benefits: Generate your own electricity and become energy independent. Invest in a Main Street Solar system and generate your own electricity from sunlight — a clean, silent, renewable energy source with no emissions and no maintenance. Enjoy long-term solar life expectancy, with our solar PV panels' 25-year product warranty and a lifespan of 30+ years.
Main Street Solar system will shelter you from rising electric rates for many years to come. Create an income stream with the payback from your utility company and by selling your solar-generated SRECs (Solar Renewable Energy Certificates). Tax credits for installing solar systems have never been more advantageous. The federal tax credit is 30% of the cost of the system, solar will also increase the re-sale value of your home and not increase your property taxes. Contact Main Street Solar for more details at 540-860-8036 or request a free quote today!