It took a while for national solar companies to come to Virginia, but in the last couple years they've finally arrived. That's good news for consumers, offering them more options to go solar. But as with any big purchase where you have more choices, you also have to be more careful to avoid low quality and get good value.
Here at Main Street Solar, we don't mind the extra competition, since I don't think we lose much business to big national installers.
The national companies are not that active in our service area of central and southwestern Virginia yet. But another reason might be that most homeowners just aren't that eager to work with big corporate solar installers, according to new research.
Why Homeowners Prefer Local Solar Installers

Based on reviews of more than 2,800 solar installers nationwide posted on the website SolarReviews.com, consumers overwhelmingly prefer smaller local solar installers to big national companies.
"Our data reinforces that in general, consumers prefer companies with deep roots in their communities, owned by people they know and see around town," the site's CEO Andrew Sendy told PV Magazine.
Companies like these receive the highest rankings in customer satisfaction and are often praised for their laser-like focus on customer service—and that makes sense. Once companies reach a certain size, it's harder to maintain a personalized customer-service experience.
Analyzing thousands of customer reviews on SolarReviews.com, Sendy found that all the most highly rated solar installers shared three things in common:
they were family owned
they employed fewer than 100 people
they had deep ties in the communities they serve
By contrast, the three worst-rated companies on the site were national installers that are all publicly held, which means they're owned mostly by remote investors out in the stock market instead of by the people in the main office and out in the field who do the actual work of installing solar panels.
What Customers Say about Us on SolarReviews.com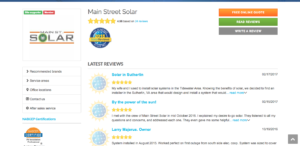 SolarReviews.com allows customers to review installers on a scale of 1 to 5 stars. The average review score for all 2,800 installers reviewed on the site in 2017 is 4.63 out of 5 stars, which Sendy believes is an indication that solar electricity is still popular among the general public.
I'm honored that the 24 customers who posted reviews of Main Street Solar on SolarReviews.com rated us a near-perfect 4.96, well above the site's already high average. I'm always pleased to see the nice things that people say about our company on the site. Allow me to share some comments from three reviews here:
Solar in Sutherlin 2/17/17

Main Street Solar…were very professional, polite, and knowledgeable. They provided all the requested specification sheet, etc. for us to know exactly how our array would perform. They also went out of their way to please two engineers that are particular about aesthetics. The owner, Andrew is a man that can be trusted. Ask for him, for your installation, you cannot go wrong. Great work!

By the power of the sun 02/15/2017

The installers were polite and professional. The inspector could not get over how well the installation looked. Very professional! Its hard to get a company to return a phone call nowadays, but these guys always call or text you back the same day! Keep up the good work!

Happy happy happy 06/23/2016

What a great crew. Place was spotless when finished. On time with start time.
You can see the full text of these reviews and read a couple dozen others too in the listing for Main Street Solar on SolarReviews.com.
The One Thing the Big National Companies Do Better
As to the big national installers, you can check them out on SolarReviews.com too. What you'll find I think is that they seem to range from two to three stars overall with comments that are at best a mixed bag.
Even if they don't score well for customer satisfaction, one thing the big national solar installers do well is marketing. With their big advertising budgets, they can run TV commercials, send out direct mail flyers and appear at events. And while that's intended to create business for them, it also raises awareness of solar in general in Virginia.
Now that they're here, nobody knows how long the big companies will stay in Virginia. But since 2018 marks the ten-year anniversary of Main Street Solar, I can promise you that our company has plans to stick around for decades to come. Virginia is where we're from, it's the place we love and we have no plans to leave anytime soon.
So, if you're looking for a solar installer that's family owned and has deep roots in the community, we may be a good fit for you. Just request a free quote and put us to the test.
— Andrew Brenner, Main Street Solar